MYSTERY DIECUT/SLAP BUNDLES
THIS IS 3 RANDOM STICKERS FROM A MASSIVE PILE OF OLDER DIECUTS/SLAPS  I MADE!
NO RETURNS OR REPLACEMENTS ALL SALES ARE FINAL! 
These all come from over the years of all the diecuts/slaps I have made in the 3+ years I have started diecuts!

Lots of possibilities in this lot!

What are you looking to get!? Ready to test your luck to see what you can get?!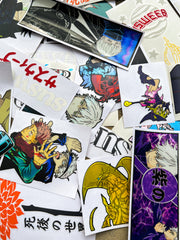 MYSTERY DIECUT/SLAP BUNDLES